Seven years ago, without any authority or right to do such a thing, we declared November 20th the first annual "Globally Organized Hug A Runner Day!" (GO HARD) Since then thousands of people from around the world have celebrated the day with us. This year's GO HARD celebration is just over a month away but that gives us time to train and prepare!
If we are going to be ready and at our best on the big day, we will need to apply ourselves and commit to many weeks of practice. We can't just show up at GO HARD and expect to perform well without putting in the work beforehand.
Below are a few training suggestions to help everyone train for the big day in November:
1. Interval Hugging: Try both long and short intervals and don't forget to change leads with your hugging partners so everybody gets a chance to set the pace. We recommend starting with 10 times 40-second hugs with ample recovery. More experienced huggers may want to cut down on the rest between hugs.
2. Long Slow Hugs: This should be a staple of your training program. Set aside time at least once a week to share a hug lasting several minutes. Up to 20% of your weekly hugging time can be spent in this one hug. Be sure to choose your LSH partners carefully because this kind of training might scare off newcomers.
3. Speed Hugging: Don't overdo this especially in the early weeks. Speed training is important but can lead to injury if huggers try to do too much too soon.
4. Hug Visualization: To be at your best you must prepare mentally. In order to be ready for anything, make sure to visualize hugging runners of all sizes, genders, ages, and ethnicities. Unlike in running, we do not recommend hug visualization (HV) while engaged in interval hugging, (IH) speed hugging, (SH) or Long Slow Hugging, (LSH). Leave hug visualization to moments when you are alone.
5. Cross Training: Running couples may want to engage in some "cross training" activities. In fact some of the above workouts (especially the LSH) can lead to cross training. While not necessary, these activities can add a little spice to the day to day grind.
So there you have the official Hug A Runner Training Guide! We would love for you to join us for the Hug A Runner Challenge during the month of November and also our GO HARD virtual race benefiting Playworks. For more information and to register for the event click the button below.

AND if you want a more in-depth lesson on HOW TO HUG A RUNNER watch the video below!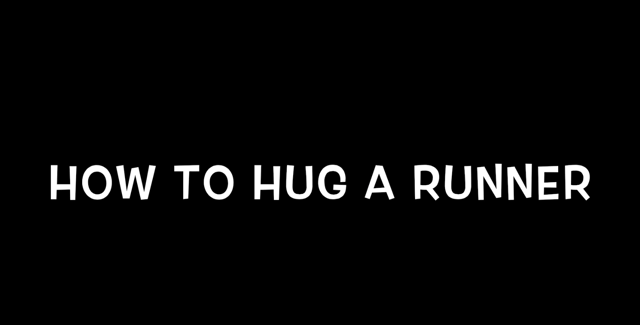 ---
Have hugging suggestions? Or just some positive vibes?


Share with us by commenting below!