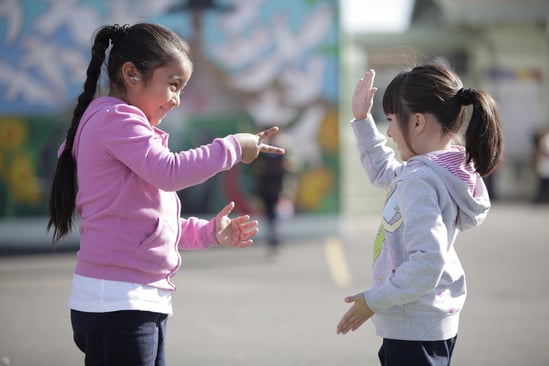 November is officially the month of positivity and camaraderie for the running community, as we dubbed November 20th to be Globally Organized Hug A Runner Day (or GO HARD).
Why? Because runners are awesome.
Okay, that's not the only reason...but runners are pretty great! In our Run The Year community we see complete strangers become best friends. We also see some people who learn to run their very first mile!
Think about the first time you went running.
Perhaps a friend took you out on a run one brisk morning before work? Maybe it was the mandatory mile in gym class? Or was it the first time you got to play freeze-tag as a kid? Something got you started, and now you probably can't stop!
But what if your first exposure to running was a bad experience? What if you never got picked to play freeze-tag at school? Or what if you were bullied on the playground and decided it was safer to stay inside?
A bad experience with running or playing as a kid might have changed your fate as a runner.
It's important for kids to play outside, which often includes running. So how do we make recess a safe place to love running? How do we create an inclusive environment for kids to have fun?
It's a hefty goal, but luckily Playworks is doing just that: making recess fun, safe, and inclusive.
We're proud to support Playworks in their mission to end bullying on school playgrounds because we also think recess is important for child development. Playworks helps schools "make the most out of recess" by focusing on what works best on their playgrounds so students feel safer, more engaged, and empowered.
You can support Playworks by signing up for the virtual Hug A Runner 5K, 10K, or half marathon for GO HARD on November 20th. All proceeds will go directly to Playworks so we can keep raising awesome humans—and future runners! ?
What was your first run like? Comment below!