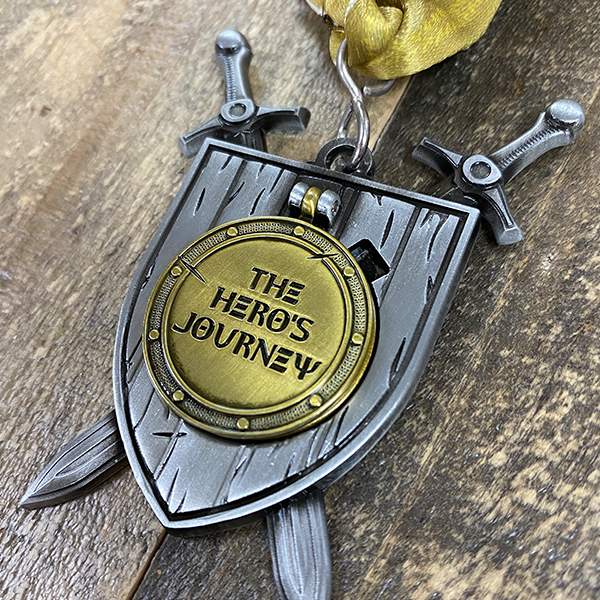 Hero's Journey

December 2023
Complete 12 fitness quests in one month!
You will have one month to complete 12 different distances. The distances range from 2 to 9 miles, and you can complete them by walking, running, biking, swimming, or any other form of exercise you choose. The Challenge begins December 1st so sign up today!
December 1st - 31st, 2023
Customize Your
Challenge
$25 | digital registration
Access to the Run The Edge Tracker to schedule your challenges and track your mileage
Sync your mileage with Garmin, Fitbit, Strava, and Apple Watch
A digital shield for each quest you complete + digital booklet to supplement your journey
Access to The Hero's Journey private Facebook group
Heroic Interactive Medal with hidden pendant (optional)
The Hero's Journey Quest Booklet with commemorative pop-out "collector cards" (optional)
Hero's Journey Medal
Add the Hero's Journey medal to your registration.
The centerpiece of the medal opens up via a hinge to reveal a two-sided coin that can be worn as a pendant! (Chain included).
On one side of the coin, there is a dragon, representing the dragons you slayed during the challenge. The other side has a quote, "Remember What You're Capable Of" to remind yourself of how far you have come on your journey.
Digital Shields
For each quest you complete, you will receive a digital shield in your Tracker, similar to a bib that you would receive for a race.
Each shield comes with the option to upload your own photo to make your own unique shield! Each shield has a unique image to represent that stage of the journey and they will pop up in your Tracker when the quest is completed.
BIG Thank you for the Hero's Journey! I enjoyed it so much!!! It was just what I needed to get back in the groove after a cancer battle. Top-Notch as always! Looking forward to more! Love you guys! I'm on my third Amerithon.
Mary Atkinson |
6
year participant
My booklet from Hero's Journey arrived yesterday. As I read through the booklet I realized how accurate some of the journey descriptions are of what has been, what is, and what will be coming. I'll be using the booklet as a sanity check over the next couple of months to remind myself that sometimes the hero we need is ourselves. Thank you. I'm a better person for having this in my life.
Tammy G | 4 year participant
I'm a big fan and will always subscribe to Run The Year and whatever else you release that works with my level of running. I'm a lifetime fan!
Yvette Mikinka | 4 year participant
Frequently asked questions
Still have a question for us about the challenge? No question is too big or too small, but please don't ask us about putting pineapple on a pizza. You'll just start an argument.
What type of exercise counts?
Any and all exercise counts! You can walk, run, bike, swim, pogo stick...you name it! The idea is to MOVE for the mileage goal set for each quest.
A quest is simply a distance you need to cover for the day you schedule it. You will have 12 distances (quests) ranging from 2 to 9 miles that you need to complete in the 30 days of April. You can schedule them on whatever day you choose, BUT we will offer a suggested order that follows the path of the Hero's Journey!
We are glad you asked! The quests in YOUR story are:
Chapter 1
The Ordinary World 2 Miles
The Call to Adventure 4 Miles
The Refusal of the Call 3 Miles
Meeting with the Mentor 5 Miles
Chapter 2
Crossing the Threshold 6 Miles
Tests, Allies, and Enemies 8 Miles
Approach to the Innermost Cave 2 Miles
The Supreme Ordeal 5 Miles
Chapter 3
Seizing the Sword 3 Miles
The Road Back 6 Miles
Resurrection 9 Miles
Return with the Elixir 4 Miles
Can I do a quest more than once?
YES! You can repeat the same quest every day if you'd like! The goal is to get in all 12 quests that correspond to a specific distance, but if you want to repeat a quest you can!
When do I get my medal (and will they sell out?!)?
Medals will ship as orders are received. YES, we do have a limited supply of medals so be sure to register before they are gone!