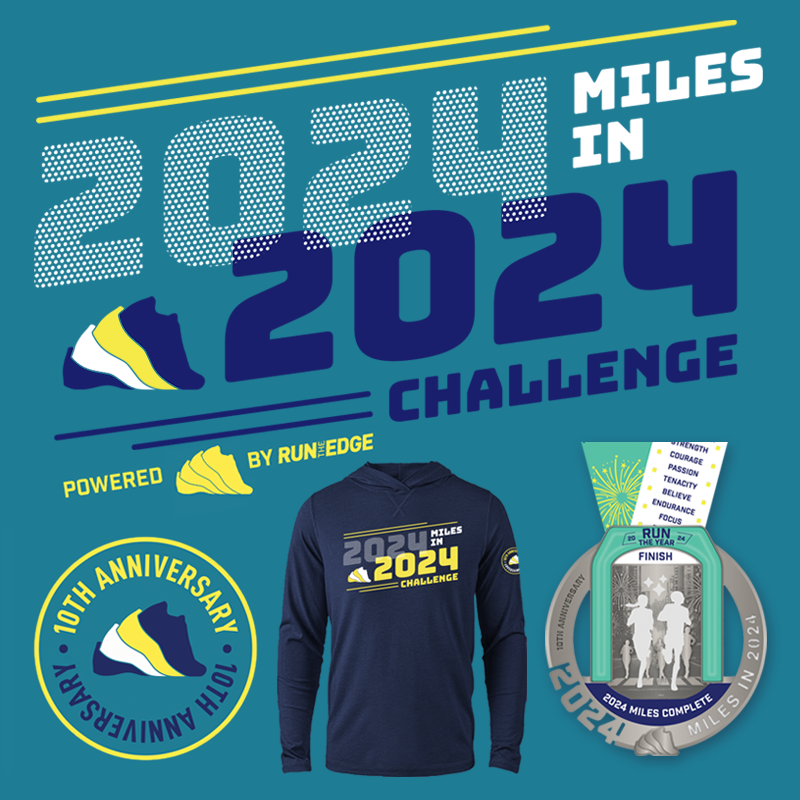 Run the Year

2024 Miles in 2024
Early Bird Registration EXTENDED through October 3rd! Get The BEST Deal of the Year
Run - Walk - Step - Move 2024 miles
Sign-up today and become an Early Bird! Early Birds get the best of everything. They get the lowest price of the year, the most goodies, Free or discounted shipping (US only), a FREE October Challenge, and more surprises to come.
Don't miss this Extra Special 10th Anniversary Edition of the Run The Year Challenge!
Momentum Package
$39 | Over and $70 Value
For Early Birds Only
EVERYTHING you see in the package image above
Access to the RTE tracker (individual and teams)
FREE October Hero's Journey Challenge
Priority shipping (Get yours before Jan 1st)
Build your team
Customize your goals
More surprises to come!
Run the Year 2024 Medal
Our most INTERACTIVE and DYNAMIC medal ever!
Chart your progress by changing out the vinyl clings every 100 miles.
Adjust the ribbon to reflect the mindset or attitude you need that day.
PLUS this medal does something extra we can't even show you yet! Stay tuned for it's other amazing ability...
More About Run the Year
10 Years
Thousands of lives transformed
Millions of miles tracked
But one goal remains... Can you Run/Walk/Step/Move The Year in Miles?
This is the ORIGINAL year-long fitness challenge that allows you to test your limits and see how far you can go in a year. Set and update your individual goal anytime in the RTE Tracker to be 500, 1000, 1500, or 2024 miles. Create or join a team to divide the miles and conquer the challenge together! Track your stats, follow your friends, and most importantly stay motivated and moving all year long in the very special 10th Anniversary edition of the Run The Year Challenge.
Are You In?
Frequently asked questions
Still have a question for us about the challenge? No question is too big or too small, but please don't ask us about putting pineapple on a pizza. You'll just start an argument.
Tell me about the tracker!
Every participant gets access to the RTE tracker (see video) for both individual AND team miles! You can create teams of up to 100 and set HUGE goals of up to 10X the year (set your team goal in the tracker to be anywhere from 2024 - 20,240 miles!). You can track your own progress AND be on a team at the same time!
Also new: cover the miles your way with settings that allow you to choose what activities count to get in the miles. You can count your daily steps or even turn on Biking and swimming if you like. You customize the challenge to do it your way.
The RTE Tracker allows you to manually enter miles or sync with Garmin, Fitbit, Apple Watch, and Strava. You also get access to our optional private Facebook community.
Teams are a great way to take the challenge!
Divide the miles any way you like and conquer the challenge together. You do not have to choose between doing the challenge as a team or individual because the RTE Tracker will do both!
Each team member must register individually.
You do not need to specify that you are on a team when you register.
The hardest part is coming up with an awesome team name!
Here is a video that shows you how teams works: See Teams Video
You can take the challenge individually AND be on a team at the same time. The tracker will keep track of your team and individual miles.
Q: What do you get if you run/walk behind a car?
A: Exhausted
Q: What do you get if you run/walk In Front of a car?
A: Tired