What is a virtual fitness challenge?

The Chance To Change Your Life
Virtual races are often one day, one distance events where you compete against others and the clock. For example, you might sign up for a 5K virtual race, upload your results, and look at a leaderboard.
For about the same price (or less), our virtual Fitness Challenges keep you moving and motivated over a longer period of time and focus on completing the challenge (like climbing a mountain) rather than beating others.
Imagine covering 2,023 miles in the year 2023 or using your miles to virtually travel across the United States. Imagine the new you when you reach the finish line!
Our Fitness Challenges
Discover the Run The Edge suite of virtual fitness challenges meticulously designed to help you get motivated and stay motivated all year long. Explore Run The Year®, The Hero's Journey, Amerithon, JOGLE, The Streaker Series, and Hug A Runner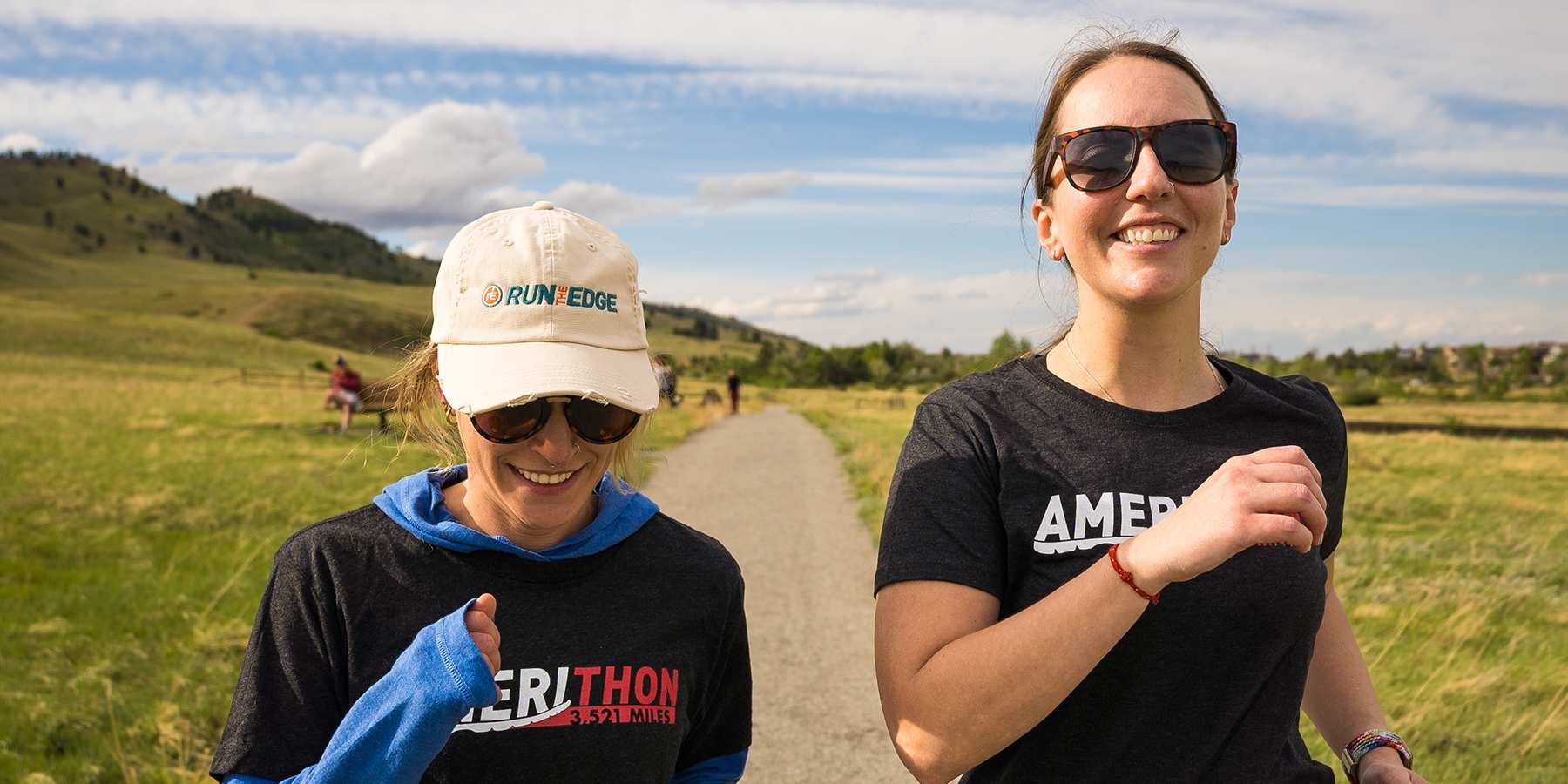 Run/Walk 2,024 Miles in 2024
If there were such a word as "bestest," this would be THE BESTEST fitness challenge ever invented!


Try it solo AND/OR with a team of up to 100! Split miles any way you want between team members.


Follow your friends' progress in the online Run The Year Tracker!


Increase your level of awesome by a factor of 10. This challenge can actually do that.
Even if you haven't heard of 'The Hero's Journey', it's a story you've been exposed to more than you realize. It is the perfect framework for epic adventures, books, and movies. A well-known example is Star Wars (Luke is the only hope!).


There are twelve phases of The Hero's Journey as the hero transitions from their own ordinary world into the unknown to complete a quest or mission to ultimately come back home.


In our Hero's Journey Challenge you have one month to complete 12 different distances or quests. (read more in our FAQ!)


The distances range from 2 to 9 miles, and you can complete them by walking, running, biking, swimming, or any other form of exercise you choose.


There is a suggested order to complete the quests to follow the trajectory of The Hero's Journey, but ultimately, you can complete your journey on your terms!
Exercise Across America!
Stay motivated all year long to Run, Walk, Bike, Swim, etc. because it's a game… and games are fun!


Show off your hard work and pride! Exercise 3,521 miles to virtually cross the US and get an interactive medal to show for it!


The custom tracker and amazing swag are only the beginning. (You should really click the "Learn More" button below!)


Be the one who inspires your friends and even strangers! You can divide the miles with a team of up to 8 people and STILL take the challenge solo… if you dare.


Puppy fur is proof there is a God. (This has nothing to do with the challenge, but we wanted you to know how we feel about puppy fur.)
10 Days, 10 5K's, 10 Chances To Win $500
For 10 days, starting November 11th, we give away $500 every day!


You are eligible to win $500 when you run or walk 5K that day and enter it into our tracker.


Every day we start fresh! Run or walk a 5K and you are entered to win another $500!
YES, this means you have 10 chances to win $500!
PLUS proceeds always go to charity - win-win!