"When you say you are 'slow,' do you mean compared to the 93% of people who can't run a mile without stopping, or the majority of Americans who never exercise?" We asked a runner this question at a recent race expo. She was trying to convince us that she was a "slow runner" and we were trying to convince her that there is no such thing as slow. (To be honest, we made up the 93% number. Fortunately, she didn't ask us where we got our statistics.)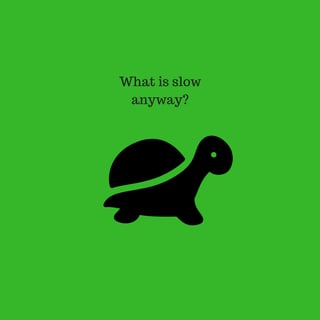 Sensing that she needed more convincing, we tried another approach. "If a woman qualifies for the Boston Marathon, does that make her fast?" She nodded enthusiastically.
"What if she finishes the marathon in last place? Does that make her slow?" The look of compassion on her face communicated that she felt sorry for these two men desperately trying to impart anything close to wisdom. We wished her good luck in her race and requested that she let us know how she did when it was over.
Two days later we received an email informing us that she had improved her best time in the half marathon by over two minutes. She went on to explain that even though she was slower than most of the other competitors in the race, she was faster than any previous version of herself. The runner she was three months earlier would have looked at the runner she is now with admiration and respect. Now she wanted to train harder than ever to be an even faster runner in her next race.
She ended the email with this thought, "From Olympians to runners just trying to finish a 10K, we are all fast. Runners at every level are pushing their limits and trying to see how good they can be. The only way to be slow is not to run at all."
We couldn't have said it better ourselves.
Go Make Fit Happen,
The Run The Edge Team