So you're thinking of doing one of our Streaker Challenges? Well, good news: the Back to School Streaker starts on August 1st and there is still time to sign up!
For more info on what exactly a Streaker Challenge is, click
here
.
AND...If you're looking for a reason to take on one of your Streaker Challenges, we have seven of them for you right here!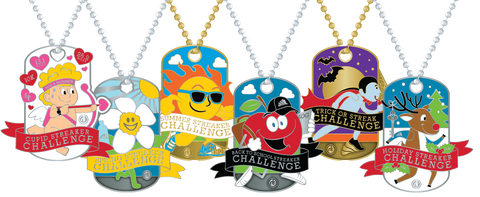 It will help you form healthy habits! The whole point of a Streaker Challenge is to see how many days in a row you can exercise! By making time to exercise every day, you learn to prioritize healthy movement, even in a busy life. After a few days, you won't want to break your streak!
It's a good way to "get into" fitness! The Streaker Challenges only ask that you run or walk one mile a day, or spend 20 minutes a day performing an exercise of your choice! That's all, folks. By breaking it down into more manageable goals, you can learn to incorporate fitness into your daily routine without taking on a daunting goal!
You can do it on your own time! There is no one window of opportunity during the Streaker Challenge. You can complete your workout any time during a 24 hour period in order to keep your streak! Feel like going for a morning stroll one day, then an evening run the next? No problem! It's completely up to you.
You become part of an awesome virtual community! Run The Edge prides itself on cultivating supportive, fun, and engaging online communities through our Facebook groups. By participating in a Streaker Challenge, you will have access to our Streaker group where you can make friends, share your success, and draw on others just like you for support when needed! It's one of the best parts about doing a Run The Edge challenge.
Earn up to six awesome badges per challenge! Each challenge rewards you with six special badges as you streak. The badges will appear in the Streaker calendar of your Run The Edge tracker as you earn them by streaking a certain amount of time. If you earned the sixth badge, it means you streaked for the entire month!
Win prizes! Earning badges also enters you to win prizes in our drawings! Each badge corresponds to a certain prize, and some prizes can have multiple winners! The more badges you earn, the more chances you'll have to win something awesome.
Surprise yourself! Exercising every day for 30 days in a row might seem pretty daunting, but you'll be amazed at what you're capable of! Surprise yourself by starting an exercise streak and letting the challenge keep you motivated. You'll have lots of support, and plenty of incentives to keep you going on days you're not feeling it!
You don't have to take our word for it though. Sign up for the Back to School Streaker (and more) right now and see for yourself!