Jim and his wife Deborah Lea-Powers are on a team together, striving to reach the finish line at the Washington Monument. After completing 2,016 miles in 2016 for the Run The Year 2016 Challenge, they wanted to find out how to stay motivated and continue staying active. Not only do they have to complete 3,521 miles to finish the challenge, but they get to virtually travel across the USA as they earn badges for each landmark they pass along the way. Read more to hear what it's like to do the Amerithon Challenge as a two-person team straight from Jim!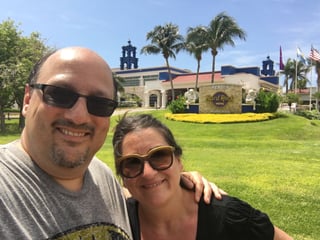 RTE: WHAT WAS YOUR AMERITHON EXPERIENCE LIKE?
Jim Powers: Being a bit overweight myself, I knew I had to find something to inspire me to want to get up and go for a walk. Having never been a runner, finding something that helps me to walk more and more every day, is a blessing through and through. Deb, being a runner, suffered a hip tear, and had to slow her running to allow time for the injury to heal. This brought us both together to help encourage each other to go get our steps in for the day. The Amerithon Challenge gives us a goal to work towards, and a challenge to meet every day!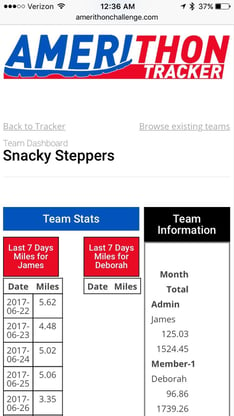 RTE: HOW DID YOU HEAR ABOUT AMERITHON?
JP: Deb is an avid runner and enjoys reading a lot of websites, blogs and group pages. Me, not quite so much, but I do enjoy walking. Thinking of our long-term health, we knew we needed to do something to be more active. Deb came across the event called Run The Year, thinking it might be a fun thing for both of us to do together and inspire us to do more healthy activities such as walking/running. Closing in on our goal of 2,016 miles together in 2016, we came across "Amerithon" and thought it might be a fun way to "digitally" see the country and keep up with our exercise routine. Thus, our virtual walk across the country began!
RTE: WHAT WAS IT LIKE TO DO AMERITHON WITH YOUR WIFE?
JP: Doing the Amerithon Challenge alone would have been too far of a goal for me to see reaching alone. Being on a team, especially with a loved one, is a way to inspire and challenge each other in fun ways. It brought us together and created a feeling of joy that we're going to tackle a goal together. I couldn't imagine making it through the challenge without her.
RTE: DO YOU GUYS WORK OUT TOGETHER, OR ON YOUR OWN AND ADD THE MILES IN?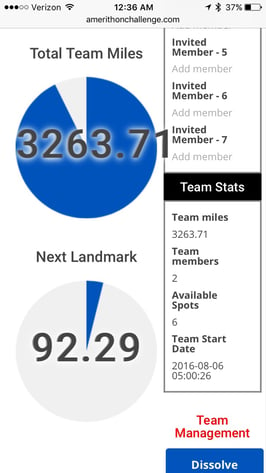 JP: It is a mix of both. We do some walking on our own, especially when we have different days off. Having said that, the best days and challenges met are when we are together for a stroll, an exercise routine at a gym or cheering each other along a route. Togetherness, that's what Amerithon brings to us.

RTE: WHAT OTHER THINGS DID YOU LIKE OR THOUGHT WERE FUN?
JP: The virtual path across the country is amazing. Seeing updates as we "reach" landmarks across the country is immensely fulfilling and inspiring. Jokes of resting in the 'Grand Canyon' or 'Rockies' with our tracker make this a joy to do. Of course, the maps and awarding each other medals are highlights too.
RTE: ANYTHING ELSE YOU'D LIKE TO SAY?
JP: We look forward to reaching the finish line and preparing for next years goal!!!! ☺