"1 FLAG UNITING 62 IMPACTFUL DAYS BY MOVING OVER 4,600 MILES ACROSS THE COUNTRY, FROM SEATTLE, WA TO TAMPA, FL."
When we created the Amerithon Challenge we set out to make it an exciting adventure where you can virtually exercise your way across the United States. We also set out to make sure each mile had the potential to mean something more. In our initial launch of the challenge, we partnered with Team Red, White & Blue, an organization whose stated mission is to "enrich the lives of America's veterans by connecting them to their community through physical and social activity." The connection couldn't have been more perfect. Little did we know we would have the opportunity to make that connection even stronger this year.
In a matter of weeks, Team RWB will embark on their fourth annual running of the Old Glory Relay, an event that tasks over 70 teams to move a single American flag across the United States. On September 11th, teams will start in Seattle, Washington and begin the journey of covering over 4,600 miles. On November 11th, Veterans Day, that same flag will reach its final destination in Tampa, Florida after being carried by over 3,000 runners.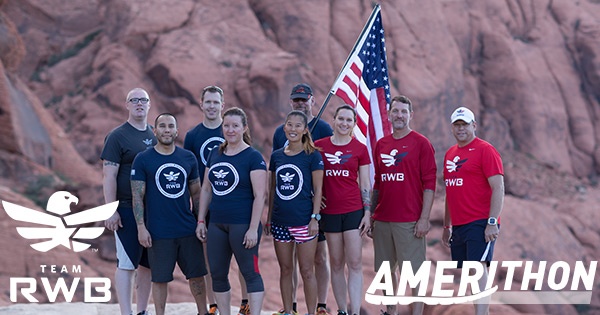 While the Old Glory Relay runners carry the flag across the United States, we encourage people to join our Amerithon Challenge to virtually run with them. Since our challenge also travels across the country, we couldn't have picked a better way for people to be a part of such an impactful event. Beyond allowing participants to travel across the country with the relay, the Amerithon Challenge supports Team RWB by donating up to 20% of the proceeds from registrations made between September 1st to November 11th.
If you are already an Amerithoner and would like to support the relay and Team RWB, we will have a number of "Flag Days" where we will ask our participants to run with an American Flag, take a photo and hashtag both #AmerithonChallenge and #OldGloryRelay to support their cause.
We are extremely honored by the opportunity to partner with and support Team Red, White & Blue. Help us help their cause and register now for the Amerithon Challenge or Click here to learn more about Team Red, White & Blue and the Old Glory Relay.