Alright, Run The Edge Family, November is almost over and we know that everyone is scrambling to squeeze in their last few miles of 2019! We are so proud of all of you for taking on this daunting challenge. Whether or not you reached your goals, we are incredibly impressed with every single one of you, and we can't wait to see what you accomplish next year!
So what can you expect for the upcoming Run The Year 2020 Challenge? Well, we can promise you that in our effort to continually improve your experience, our 6th year will be our best yet! We have added new features, extra challenges, and fun bonuses to show you how much we appreciate you all.
In our 2020 Tracker, you will be able to customize your goals AND view you past years' data. We know not everyone wants to try to run 2,020 miles in a year (because that's a ridiculous amount of miles), so you now have the option to set you year's goal to a distance that works for you! In addition, you can have side-by-side comparison of this year's miles and last year's. You can see how much you're improving, whether or not you're hitting certain milestones sooner than last year, and where you were in your RTY journey on specific dates a year apart!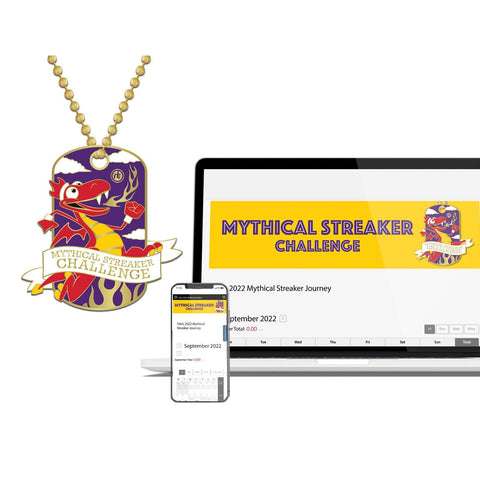 We have also added an entire set of new challenges called The Streaker Series. The Streaker Series comprises six month-long challenges that occur every even month in 2020 (February, April, June, August, October, and December). Each one has a unique theme with six special tracker badges that will pop up throughout the challenge, as well as a unique bling (super cool custom dog tags) to vaunt your accomplishment! All you have to do to participate is log at least 1 mile a day (or 20 minutes of exercise) in the Streaker's tracker for as many days in a row as you can! Every badge you earn enters you into a drawing to win some really cool prizes (who remembers the running shoes from the Spring Streakers?) and secures you bragging rights for the entire year.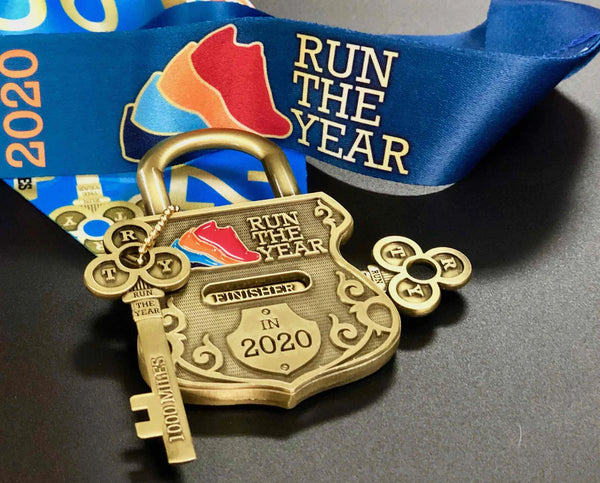 If you just read that paragraph and thought smugly to yourself "heck yeah, I'm going to smash this so-called Streaker Series," but you haven't registered for RTY2020 yet, then now is probably a good time to let you know that you can snag ALL SIX Streaker challenges FOR FREE if you sign up for Run The Year 2020 before December 1st. Look at your calendar. That's right, December 1st is only a FEW DAYS away! Don't panic, we're going to make this real easy for you and put the registration page right here so that you can sign up and take advantage of this awesome deal. If you insist on waiting, or if you're ONLY interested in doing the Streaker Series (and don't want to do RTY2020 for some reason known only to yourself) then that's fine too! The streaker registrations and bling are all sold separately as well! You can shop for those here.
Aside from all of the fresh virtual upgrades described above, we have also revamped our medal, shirt, and poster for 2020! As always, the medal is interactive, and you can track your progress with the insertable keys! Unlock your best year yet by setting yourself tangible goals and making a promise to yourself. Both our poster and medal designs allow you to have a physical representation of your progress as you continue on your journey. Plus, coloring is super satisfying. Replace the keys in the lock-shaped medal as you rack up those miles, and reveal the picture in the color by number poster by "spending" your miles on different colored sections! The shirt this year is made with sublimated material, which means we were able to go wild with the design AND it's better suited to handle sweat. Oh, and there's a new legacy coins for all you who are crazy enough to keep doing this. Seriously, the Year 6 Coin is super badass!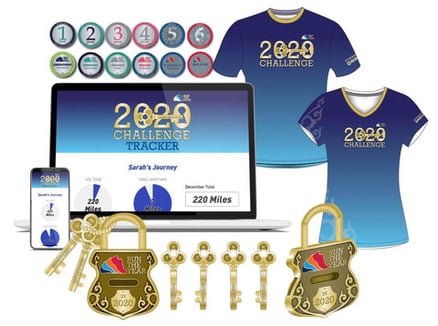 We hope you enjoy all the new and exciting 2020 features coming your way! We are committed to giving you the best virtual challenge experience possible. We always want to hear your thoughts and are open to feedback! Everyone Challenged. Everyone Successful. Everyone Included.