Getting Started with Run the Year 2024
While the 2024 Challenge does not officially start until January 1st, there is so much to be excited about NOW!
Click to Jump to Sections
EXCLUSIVE SPECIAL OFFER
Early Bird Exclusive
Surprise to you early birds!
Enjoy an $100 FREE Credit towards food, gear and more on TheFeed.com PLUS a free water bottle.
An exclusive offer that is only available to Early Bird Registrants - those who registered for Run the Year 2024 by October 2, 2023.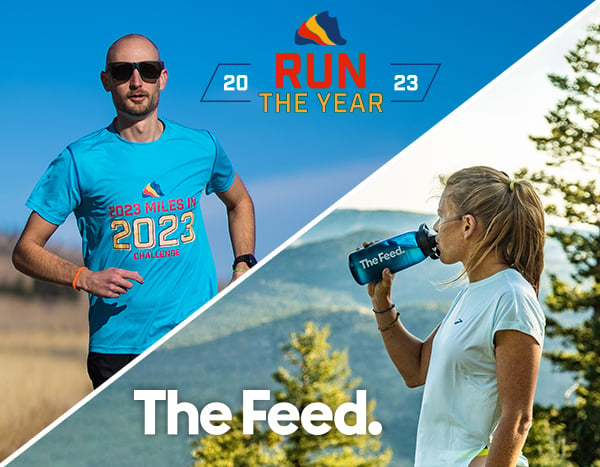 1. Sign Up for New Registrants
If this is your first challenge with us, you can sign up and log into Tracker by doing the following:
2. Username + Password
Your Username: registration email

*email used at registration
Your Password: gfh19ab
2. Personalize Your Password
Once logged in, visit Profile > Account Settings and reset your password to one of your liking.
TIPS + SUPPORT
WIFI - Some mobile phone users may need to connect to wifi to log in. If you are unable to log in, there was likely a typo in your email address at registration.
NEED HELP? If you encounter any issues, please email us at info@runtheedge.com, and we will get you up as quickly as possible.
Mileage Tracker
For Existing Participants
1. Log In to Account
If you already have an RTE Tracker account you can log in with your existing username and password.
2. Update Event to 2024
If you are currently in an event, you will need to switch over to the 2024 event.
Click here to see how!
Add Tracker to Your Phone
Be sure to add the RTE tracker to your mobile device. As soon as you add it, the RTE tracker will function just like a native app making everything super easy. It only takes about 30 seconds to add it.
Shipping
This is VERY important! Because you registered EARLY, your RTY 2024 packages will ship and be at your door BEFORE January 1st. We will try to get it out the door even sooner if possible. THANK you for being an Early Bird!
January 1st
Remember! You cannot enter miles until January 1st. This means devices you set up will sync miles starting January 1st as well. If you are already synced to our tracker because you are in Run The Year 2023, Amerithon, a Streaker Challenge, or any past event, your miles will automatically start syncing on January 1st. You are all set and don't need to do anything!
THANK YOU!
Sometimes a simple "Thank you" does not seem sufficient or genuine enough to express our gratitude. It is no exaggeration when we say that we could not do this without the support of people like you. Your early registration gives us the runway to order all of our supplies and swag needed to host this challenge. It might not seem like much, but your support and belief in us means EVERYTHING! We can't wait to see you at the starting line in 2024.
Run The Year 2024 is bigger and better than ever!
You can login now and play with the tracker settings, set up teams, watch tutorials (these will be updated in the coming months), and pre-sync devices (If you are not already synced) to our tracker.
Updates + Announcements
We will be sending you more information and updates well before the 2024 Challenge begins.
10 Days, 10 5K's, 10 Chances To Win $500
For 10 days, starting November 11th, we give away $500 every day!


You are eligible to win $500 when you run or walk 5K that day and enter it into our tracker.


Every day we start fresh! Run or walk a 5K and you are entered to win another $500!
YES, this means you have 10 chances to win $500!
PLUS proceeds always go to charity - win-win!