Early Bird Registration Now Open - Join the 10th Anniversary of the Run the Year Challenge!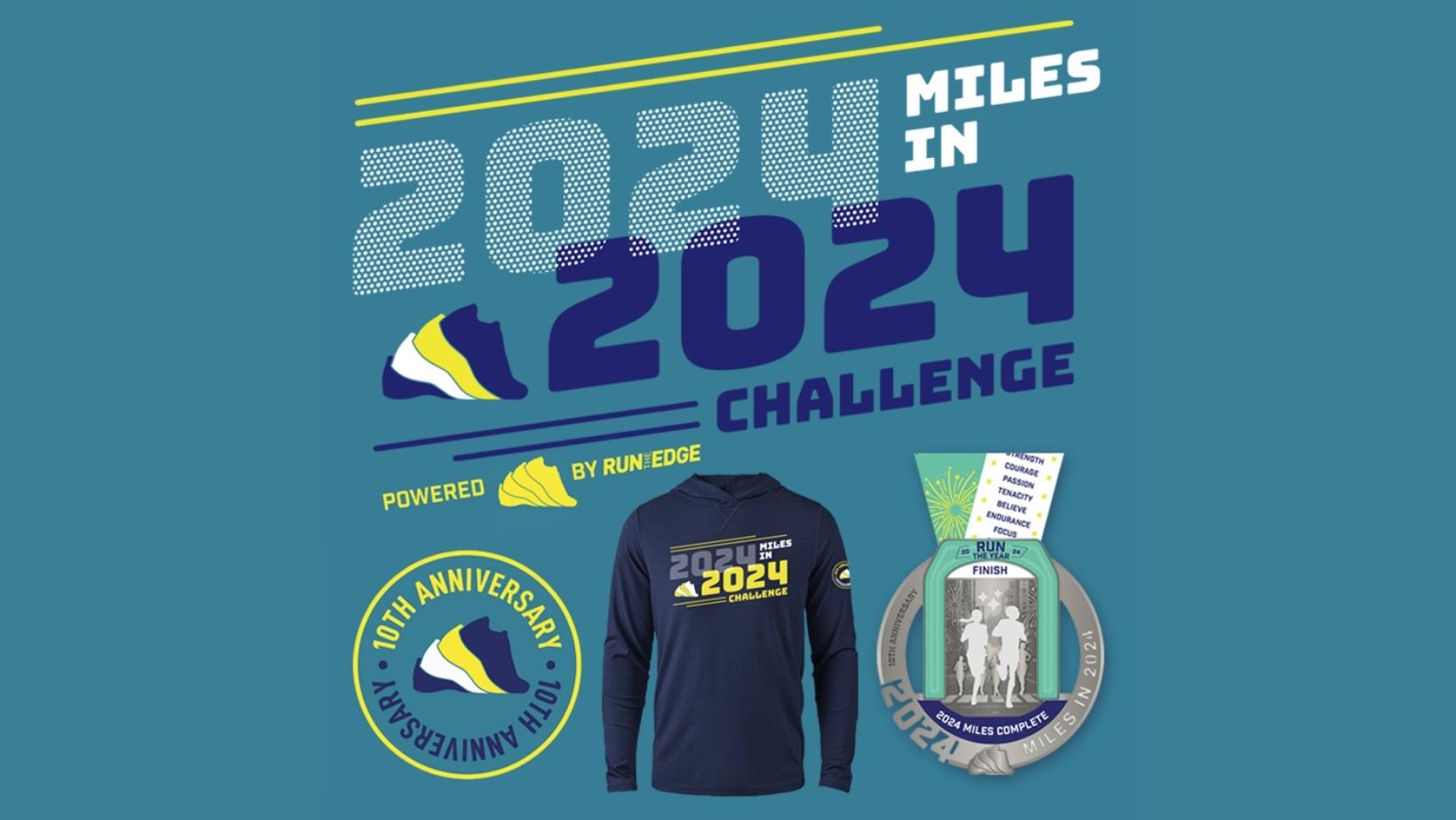 The Run The Year Challenge is back and celebrating its 10th anniversary with a bang! Early Bird registration is now open, and this year's edition promises to be extra special. Whether you're a seasoned runner, a casual walker, a step enthusiast, or simply looking to transform your physical, mental, and emotional well-being, this challenge is tailor-made for you.

A Decade of Fitness, Fun, and Friendship
For the past decade, the Run The Year Challenge has been inspiring individuals and teams to push their boundaries, set new goals, and create lasting memories. As we celebrate our 10th anniversary, we invite you to be a part of this incredible milestone. Join thousands of participants from around the world and embark on a journey like no other.
What is Run The Year Challenge?
The Special 10th Anniversary Edition of the Run The Year 2024 Miles in 2024 challenges you to cover the year in miles. Can you run, walk, step, or move 2024 miles over the course of a year? What sets this challenge apart is its flexibility and inclusivity. You can take on this epic adventure as an individual, and/or you can join forces with a team of family, friends, or even strangers to collectively conquer the miles. This unique aspect adds a sense of camaraderie and accountability to your journey.

How Does It Work?
Participation in the Run The Year Challenge is as convenient as it is inspiring. Here's how it works:
1. Choose Registration Package
From "Digital Only" registration all the way to the "Kitchen Sink" package that comes with a legacy coin, interactive medal, custom tech shirt, lightweight hoodie, 2024 bib pack, mini medal key chain, color by miles poster, free shipping, and more, you choose the swag you want to get with your package.
2. Mileage Tracking
To keep tabs on your progress, you can manually enter your miles or set up automatic syncs with popular devices like Garmin, Fitbit, Apple, or STRAVA. This seamless tracking ensures that you stay motivated and on course.
3. Early Bird Perks
Register before October 1st, 2023, and enjoy exclusive Early Bird perks. You'll lock in the lowest prices of the year, enjoy discounted or even free priority shipping, receive extra swag, and kickstart your journey with a free bonus challenge in October to prepare you for the year ahead.
---
The Interactive and Dynamic 2024 Medal
This year's RTY 2024 medal is AMAZING! It's not just a symbol of your achievement; it's an interactive and dynamic representation of your progress and mindset. Here's how it works: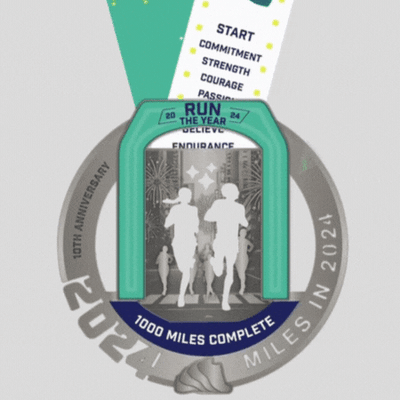 Milestone Clings
The medal comes with 21 different "clings" that you can change out every 100 miles. As you hit milestones, you'll get the satisfaction of visually charting your progress on your medal.
Adjustable Ribbon
The ribbon is more than just a decoration. It's a reflection of your mindset and attitude. You can adjust it to match the determination, motivation, or inspiration you need in the moment to keep going.
An interactive, powerful reminder of your commitment and resilience throughout the year.

Transform Your Life in 2024
Don't miss this incredible opportunity to be a part of the Special 10th Anniversary Edition of the Run The Year Challenge. Early Bird registration is now open and waiting for you to grab the best deal of the year!
Join us in celebrating a decade of fitness, fun, and friendship. Register today and let's make 2024 a year to remember!
---