Run The Edge provides the best virtual fitness challenges in the world. But don't take our word for it! Check out the challenges for yourself!
Run/Walk 2,020 Miles In 2020! Start today, count your miles since January 1st!
______________________________________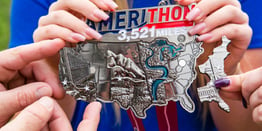 Exercise your way across America without leaving your neighborhood! Run, walk, bike, hike, or swim 3,521 miles - the length of the U.S.A.!
______________________________________

How many days in a row can you exercise? Set an exercise streak and win prizes along the way!
______________________________________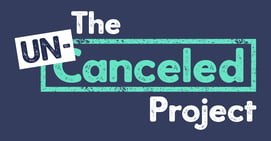 Free virtual race series where you can complete a
5K, 8K, 10K, 15K, Half Marathon, Marathon, and Ultra (31+ miles) each week. Race just one or as many as you like!
______________________________________

______________________________________
Virtual fitness has become more of a reality thanks to recent advancements in technology: thanks to the Internet, GPS, and wearable tracking devices, we now have the ability to share our fitness journeys with entire communities of people we may never meet in person! Run The Edge was one of the first companies to take advantage of these amazing new developments, and we saw potential for so much more than just advising people to be physically active and share their progress online. We wanted to not only provide motivation to our participants on a longer time scale, but we also wanted to build a strong virtual community where everyone could share their progress, failures, successes, and goals with each other. Keeping the overall experience of those who took on our challenges at the forefront of our mission was an essential aspect of how Run The Edge grew and developed. The value we place on maintaining high-quality customer experience has helped us stand out from other virtual fitness challenges as the field has expanded. We like to think that we still remain on the cutting edge of what makes virtual fitness so special— it's in our name, after all!
Hear from a participant about the impact a Run The Edge Challenge had on her: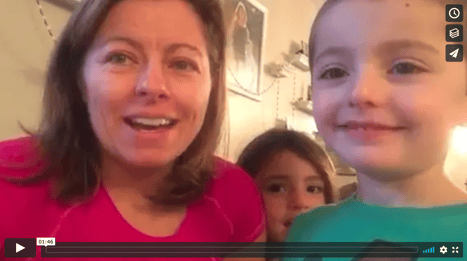 Run The Edge brings the best parts of virtual fitness without any of the complication. Being able to virtually participate in a larger event is an amazing experience, and one that is more accessible than normal fitness-oriented events. There may not be a finish line or a cheering crowd, but with virtual challenges, you have the ability to set your own schedule and tackle the miles at a pace that works for you. We've also ensured that we can provide one of the most important aspects of a race: the swag. Each of our challenges offers something — a shirt, a medal, dog tags, and more — that helps inspire every participant. Of course, you're not required to buy any of the extra goodies, but who doesn't love something to remember their achievements by? Our biggest challenges last much longer than a few miles or even a few days — Run The Edge has mastered the art of creating long-term goals that actually engage and motivate you the entire time. The interactive medals offered in these longer challenges are a great way to stay involved and excited about your end goal! And what if you want to train for a real-life half marathon or run that local race? Also great! Your training miles count just as much as the race miles in our challenges, and you can share your experience in our awesome and supportive Facebook groups!
The key to our events' inherent amazingness is our versatile and easy-to-use online virtual tracking app. Aided by our custom-built tracker, you can tackle any one of the challenges and events that we offer. One of the best parts about it is that there is no subscription fee for tracker access — you pay one time for each challenge you want to do, and you can use the tracker for the entire duration of the challenge! Our tracker is not an app that needs to be downloaded to a device. It's a web app that monitors your progress and keeps you motivated, and it can be accessed from either a mobile device or a computer, making entering your miles even easier. If you prefer the feeling of a true mobile app, you can save the web-page to your mobile device and it will function exactly the same as any other app! You have the option of entering your mileage manually, but our tracker will also sync with Garmin, FitBit, Apple Watch, Apple HealthKit, and Strava to make it even more convenient. As you reach certain milestones in your challenges, the tracker will release different features to keep you motivated. Depending on the challenge, these can be badges that appear in your virtual tracking calendar, customizable mileage bibs that you can share on social media, or special milestone badges that tell you how "far" you've traveled. Our tracker also allows you to take on the more daunting challenges as a team! Divide up the hefty mileage with friends, family, or internet strangers so that you can tackle these challenges together. Taking on a goal like this is a fun way to stay in touch with those who live far away while also hitting your fitness goals!

We are strong believers that variety is the spice of life, so we have worked hard to bring a range of virtual challenges that can meet the needs of every single person who wants to take them on. Through our challenges, you can stay on-target, earn badges, view your progress, enter to win prizes, and even raise money for charity from anywhere at any time! You can virtually exercise your way across America without leaving your neighborhood in our Amerithon Challenge if you want to take on a huge distance (3,521 miles!), or try to Run The Year in 365 days (can you run 2,020 miles in that long?), or develop healthier habits with our month-long Streaker Challenges that only requires you to run/ walk one mile or exercise 20 minutes! If you love putting in your miles for a good cause, you might like our ten-day-long Hug A Runner 5k for $5k Challenge where we donate all registration proceeds to a different charity every year AND our participants can enter to win $500 by running 5ks! There is something for everyone, no matter the size of the goal or fitness-level of the participant.
Check Out This Teaser Video For Amerithon: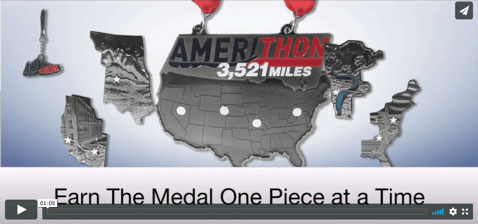 Run The Edge has been pioneering virtual fitness and cultivating supportive online communities from the beginning, but the current circumstances have made it necessary for the rest of the world to follow suit. Luckily, we've become pretty good at bringing the best of real life into a virtual space over the past decade, so we saw this as an opportunity to give back to the world by doing what we do best. Our newest virtual event, the Un-Canceled Project, is our first-ever completely FREE challenge, and we could not be more excited about it. We are well aware that many of us have suffered the disappointment of having races and events canceled this spring, so we wanted to do our part and make up for that loss in a socially responsible way. Through our Un-Canceled Project, you can choose a distance that best suits your goals (5k, 10k, 8k, 15k, half marathon, marathon, or ultra) and pick a day to complete it. No crowds, no health risk, and you have the entire day to complete your chosen mileage! Each week of the Project features an "un-cancelable" human quality that we highlight in our blog, bibs earned during that week, and in our Virtual Packet Pick-up that takes place in our Un-Canceled Project facebook group! We wanted to preserve the excitement of a real-life race by offering a stand-in for the thrill of a packet pick-up, so we decided to bring that same enthusiasm to a virtual space! Each week, a special guest joins the Run The Edge team in a live-streamed video to talk about themselves, the challenge, and how they're expressing that week's theme. The Un-Canceled Project is a great way to navigate a world where we need to be physically apart but still stand together!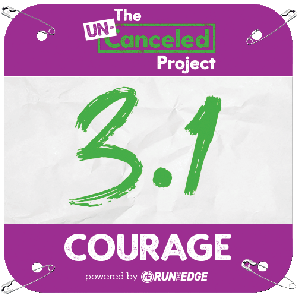 In addition to being a great way to stay healthy and motivated during this period of global distress, this project gives Run The Edge a unique opportunity to have a positive effect in a much more tangible way as well. We have recently made the decision to make shirts for the Un-canceled Project available for purchase and, to bring the mission of this challenge one step further, we will donate all proceeds from shirt sales to Feeding America in order to aid communities whose food supply has been negatively affected by COVID-19. We are also employing a local printer and local graphic designer to create and produce these shirts.
Run The Edge was 100% virtual before it was cool, and our values haven't changed a bit as we've grown. We still strive to make the best parts of the virtual world a reality, and the best parts of real life more accessible. We promise to keep running the edge of what is possible.
The Run The Edge Team:
Adam, Mimi, Kelsey, Briana, and Tim

---