"For as long as I can remember weight has been an issue for me. Starting in high school, I always strived to be skinnier and would follow extreme diets to achieve my goals. It always failed."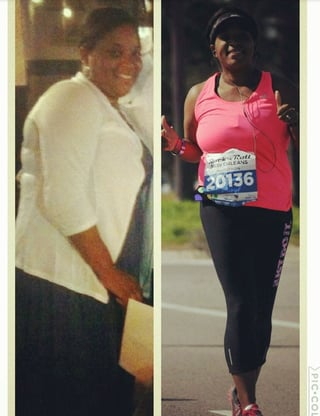 Melissa Williams Clay is honest and transparent about her life long struggles with weight. As she moved into her adult life and became a wife, mother of four children, and pursued her career as a nurse practitioner, her weight increased to over 200 pounds. She knew she needed to make a change. "I needed to do something so I could be the wife and mother I always dreamed I could be." That is when Melissa started to run. She completed several races including two half marathons but the weight was not coming off and her body was not taking the shape she desired.
Between her job, supporting her two boys at baseball and soccer games, and watching her twin daughters compete in dance competitions, Melissa didn't have time to add any more physical activity to her routine. Fortunately, she didn't need to add anything new; she just needed to change something she was already doing. Her nutrition. The combination of eating healthy meals with a program called Sensible Portions, along with running, was just the right recipe. The pounds started to melt away. To date Melissa has lost 43 pounds and she is still going. She continues to be a loving wife and Supermom to her kids but she is now doing it with more confidence and in a body that is in great shape!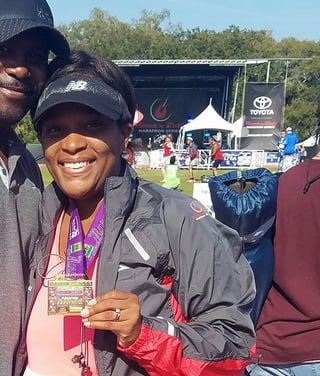 With her improving fitness, Melissa decided to enter her first marathon in February of 2017. Now it was her husband's and children's turn to support her. Her family would finally get to repay her for all of her hours dedicated to their athletic pursuits and to take pride and admiration in her success. When it was over, Melissa wrote the following on her Facebook page:
"Mile 22 showed up and I hit the (runner's) WALL!!!! My husband must have known I needed support at that moment as he sent me a text that said "c'mon hurry up you got this….you are a beast" I gathered myself together, prayed, and kept going!!!! Before I knew it I was on the last stretch!!!!!! The finish line NEVER looked so Good!!! Was it the hardest thing I have ever done??? YESSSSSS! Will I do another one??? YESSSSSS! Am I sore today??? YESSSSSSSS! But today I am a MARATHONER and there is no better feeling!!!"
Busy is an excuse for some people and a motivation for others. For Melissa Williams Clay "busy" is just an everyday reality that she will not allow to get in the way of her health and fitness goals or being a great mom and loving wife. How has this transformation helped her in her career?
"As a Nurse Practitioner, I can FINALLY practice what I preach as I educate and help others fight the devastating effects of obesity."
Congratulations Melissa! Thank you for inspiring us at Run The Edge and for allowing us to share your story. We look forward to following you as you continue your journey.
Words by Melissa Williams Clay, Photos courtesy of Melissa Williams Clay, Edited by Tim Catalano
Do you have a transformation story?
Share it with us here: info@runtheedge.com