Almost six weeks ago, Run The Edge released a series of free virtual challenges with the intention of alleviating some of the disappointment caused by the slew of canceled races, events, and meetups this spring. We called it The Un-Canceled Project because that's what we were trying to do— un-cancel as many events as we could and give our participants a way to safely complete the mileage they had been looking forward to. We expected the project to last four weeks. This challenge was met with such enthusiasm, that we decided to extend it by another two weeks. We are coming up on the end of those two extra weeks, and still your overwhelming support is as evident as ever. Run The Edge is pleased to announce that we will prolong The Un-Canceled Project for an additional six weeks! The second phase of the Project lasts from May 10th to June 21st, and will be called "The Un-Canceled Project 2."
From the beginning, this project has been about emphasizing the best parts of humanity and refusing to let a global crisis dampen our spirits. We have dedicated each week of the challenge to an "un-cancelable" human quality, and have seen amazing results. Watching participants embrace and share their gratitude, hope, humor, inspiration, courage, and commitment with the world has reinforced our conviction that this was the right thing to do. We at Run The Edge are extremely honored and humbled by the outpouring of support we have received from everyone taking on the challenge, and we will continue to make sure your amazing qualities are recognized in The Un-Canceled Project's second phase. We have created six new weekly themes (and colors to go with them) for the second half of the challenge, and are looking forward to seeing you share your success! Your spirit is what makes every ounce of hard work that went into this so worthwhile.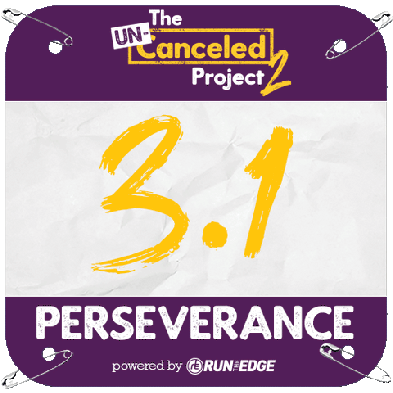 When we first conceptualized the challenge, we never thought it would last this long, nor did we think it would warrant a corresponding medal and shirt. We have been proven wrong on both accounts! Run The Edge offers The Un-Canceled Project completely free of charge because we want to do our part during this pandemic to help not profit; however, the demand for shirts and medals rang out loud and clear in emails, posts in the facebook group, and messages to our social media accounts. We decided to take the most ethical route we could, and went ahead with providing commemorative swag for The Un-Canceled Project. For us, the most ethical route meant having the greatest positive impact on both a local and a national level. We employed small, local businesses to design and print our shirts, and donated any profits (over $21,000) to Feeding America. Thanks to continued support from our participants, we will be making a second donation, collected from the second wave of shirt orders, to the same organization. The medals are designed by an amazing company who has handled all of our past medals (if you've purchased one for any of our past challenges, then you know how rad they are) and produced at their factory in the USA. These medals have all twelve themes, or "un-cancelable" human qualities, displayed on them as well as an option to insert your own printed photo to customize it once you receive it!
We could not be more proud of each and every one of you who has taken on this virtual race series and continued to be a source of positivity right when the world needs it most. Every single member of the Run The Edge team has worked harder than ever to make this Project happen, and it has been beyond rewarding to see the positive influence it has had. We are so touched by your kind words to us in emails, triumphant social media posts, and heartfelt support of one another within our thriving virtual communities. Let's keep this up for another six weeks!