There's an Athlete In Each of Us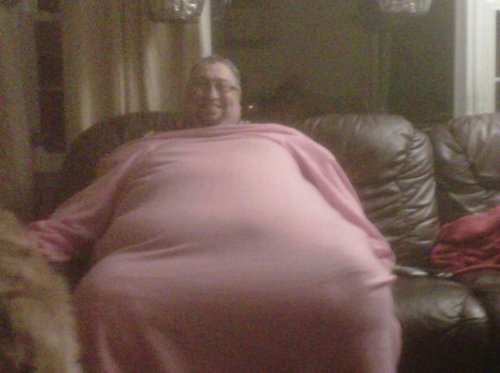 Meet Andrew Clarke, a beloved, hilarious, treasured part of the Run The Edge community who has participated in a number of our virtual fitness challenges. He is kind, encouraging, and motivational. Andrew weighed over 525 pounds when he started his weight loss journey.
At the beginning of his journey, Andrew was too big to run but determined to get started. He joined the gym at his office, but during his first visit the facility required him to see a doctor because of his size. After a cardiac stress test, doctors determined Andrew might have an issue with his heart.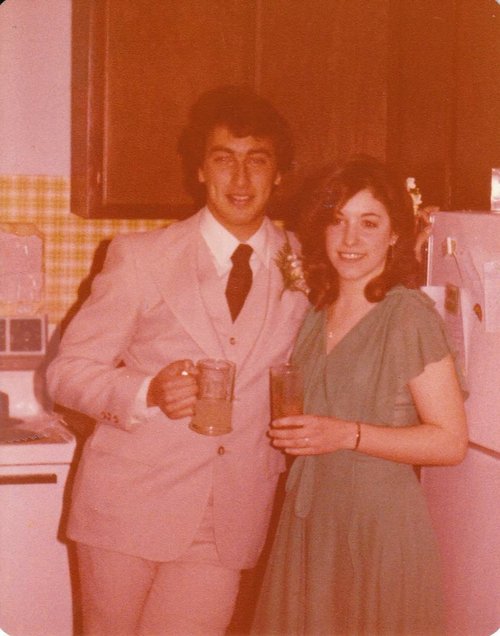 In his youth, anyone could look at Andrew and see an athlete. He was a baseball pitcher (still is), played football and basketball and threw the javelin for the track and field team. But as his size increased and his activity levels decreased, it became harder and harder for Andrew to see the athlete in himself.
Fortunately, the angiogram Andrew had at the hospital cleared him to start his weight loss journey. He started with a 5 minute walk on a treadmill. It was horrible. But Andrew was determined to keep going and set an ambitious goal to lose 100 pounds.
Each night he would repeat "100 pounds, 100 pounds, 100 pounds" before going to sleep. He had to keep the goal in front of him and focus on not only the destination but also the journey.
Slowly Andrew built up not only stamina but also his confidence. He joined online fitness challenges where he could walk at his own pace and on his own time to get in miles and achieve his goals. He also started inputing his food intake into an application that helped him keep track of his nutrition. Slowly the weight began to melt away. Two pounds a week was great progress. Knowing that consistency was the key, he searched for ways to stay motivated and find others who could help encourage him.
We first met Andrew when he took our Run The Year 2015 challenge as part of a team. The team finished but Andrew wanted to do more. By the time 2016 rolled around he was determined to cover all 2,016 miles by himself. The amazing thing about Andrew is how much energy, advice, and encouragement he brings to our groups. He is always upbeat, positive, and ready to lend a compliment, or a sarcastic jab at one of his many new friends.
On March 26, 2016, Andrew hit his goal. He had lost 100 pounds!! The feeling was amazing. With his lower weight combined with stronger legs he took up "wogging" - a combination of walking and jogging. He entered some 5K road races and started to focus on the next goal of 399 pounds.
Each night he goes to bed and repeats "399, 399, 399" He knows he will hit this next goal. He knows that as soon as he does he will set another one. Most of all he knows that he will continue to enjoy the journey.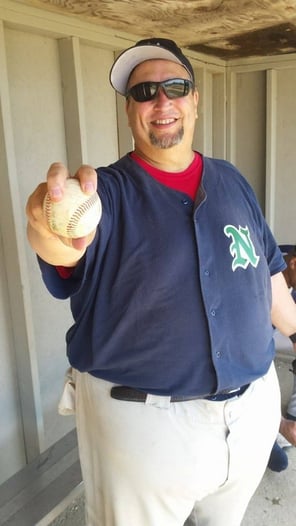 So, what is an athlete? If you saw Andrew Clarke from across the parking lot would you ever guess that this man runs (wogs) 5ks, pitches in a baseball league, takes Zumba classes, and completed 2,016 miles in 2016 all by himself? Maybe, maybe not. But that's not the point. The point is that when health and fitness is at the forefront of your daily life, incredible things can happen. You can reach your goals, find a healthier you, and become a crucial part of a community that motivates, encourages, and reminds you everyday how important it is to take care of your body.
Andrew Clarke, you are an inspiration to us all! You are a living example of what can be accomplished with consistency, determination, and good humor. You are an amazing athlete.
**Do you have a transformation story or know someone who does? Email us at info@runtheedge.com***