Run the Year

2023 Miles in 2023
Sign-up today + count your miles from January 1st!
NOTE: This is registration for the 2023 challenge. For Run The Year 2024 Click HERE
Set your individual goal to 500, 1000, 1500, or 2023 miles. Create or join a team to divide the miles with friends and family. Collect bibs to add to your trophy case, win prizes, and compare month over month stats. Plus RTY 2023 is now "Fueled By The Feed" which means you get $80 to spend on nutrition from their store.
Jan 1st, 2023 - Dec 31st, 2023
fully customizable packages
Get everything that you want and nothing that you don't! Add on all your favorites, from medals to hoodies to t-shirts, at a 10% discount.
4 medals to choose from
You have the option to purchase medals for 500, 1000, 1500, or 2023 miles. Whether your goal for the year is one of these milestones, or you want to celebrate each along the way, we have something to help keep you on track!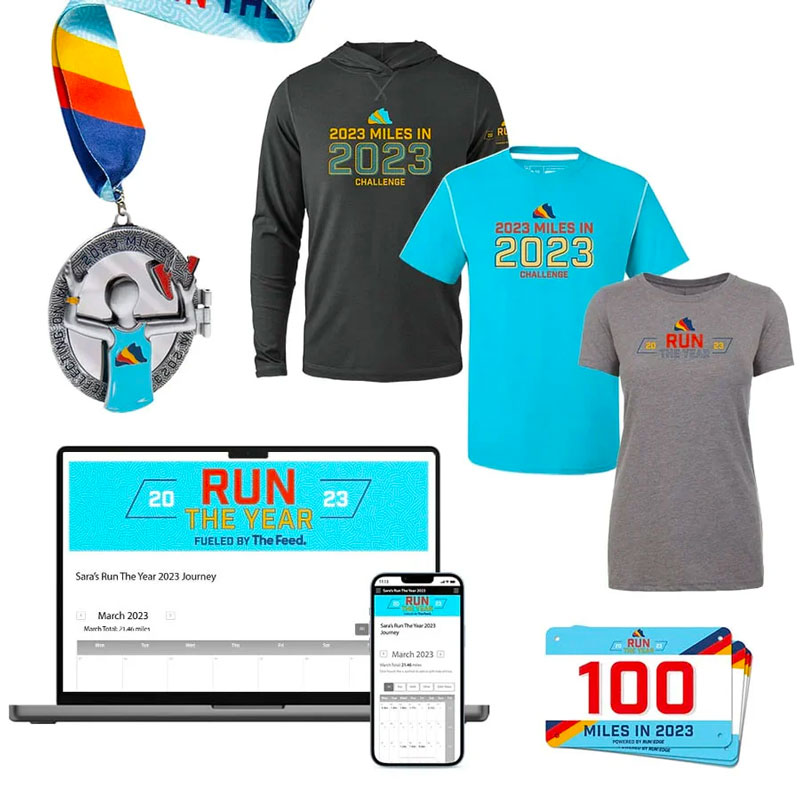 Frequently asked questions
Still have a question for us about the challenge? No question is too big or too small, but please don't ask us about putting pineapple on a pizza. You'll just start an argument.
Tell me about the tracker!
Every participant gets access to the tracker (see video) for both individual AND team miles! Updated for 2023, you can create teams of up to 100 and set HUGE goals of up to 10X the year (set your team goal in the tracker to be anywhere from 2023 - 20,230 miles!). You can track your own progress AND be on a team at the same time!
Also new: cover the miles your way with settings that allow you to choose what activities count to get in the miles (bike the year, swim the year, just MOVE!). PLUS, we are launching a NEW custom private community app (we think you'll love it!).
The tracker allows you to manually enter miles or sync with Garmin, Fitbit, Apple Watch, and Strava. You also get access to our optional private Facebook community.
Teams are a great way to take the challenge with up to 100 people!
Divide the miles any way you like and conquer the challenge together. (YES, teams of up to 100 people!)
Each team member must register individually.
You do not need to specify that you are on a team when you register.
The hardest part is coming up with an awesome team name!
Here is a video that shows you how teams works: See Teams Video
You can take the challenge individually AND be on a team at the same time. The tracker will keep track of your team and individual miles.
Q: What did the lion do when it saw a reflection of itself?
A: It mir-roared