Hi Run The Year 2020 Family! We wanted to take a moment to check in with you all. This is a time we should all be strengthening our community and doing what we can to take care of others. So we want to know what's going on in your world, share what we've been working toward, and reflect on the first few months of 2020!
First of all, we would like to thank you all for the outpouring of support and positivity we have received from this community. We are extremely fortunate that Run The Edge has always been virtual, and we do not take for granted the fact that we are able to continue business as usual. Thank you for taking on this challenge at the beginning of the year when we were all looking forward to our spring and summer races. Thanks for tackling the miles in a socially responsible way despite the disappointment of canceled events and huge changes to our world. Thank you for continuing to be the strong virtual community we have been so proud of for the past half-decade. The rest of the world is learning how to come together while being apart now.
Secondly, as many of you have seen, we have released a free challenge series to help ease the sting of canceled or postponed fitness events. We know many of you have been training hard and preparing for a race that is no longer happening on the anticipated timeline, so we wanted to give back to the world in the only way that we know how: make everything virtual! Our new virtual race series, the Un-Canceled Project is up and running right now, and is 100% FREE for everyone who wants to participate. For more information on the Un-Canceled Project, visit our official page here.
The entire Run The Edge team has been working from home for the last four weeks, and while it has been an adjustment for us, we have been able to accomplish the following:
Pull together an entirely new kind of challenge from scratch in under two weeks!

Manage a small business while maintaining CDC and local government guidelines for social distancing.

Involve ourselves more deeply in our online communities and be inspired by the determination and integrity of our participants.

Stay connected to each other, our families, and our loved ones in new ways.

Experience entirely new levels of gratitude for technology, the Internet, and all of YOU for making virtual fitness a reality.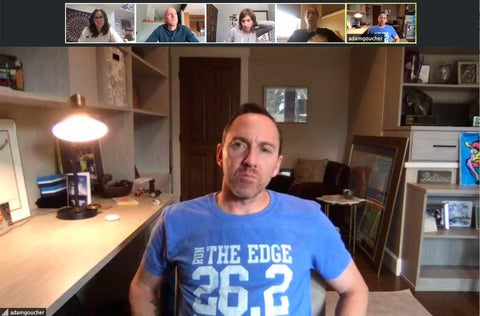 We all started this year off with goals, motivation, and plenty of excitement for the new decade. None of us could have guessed that the year would go this way, but we are all trying to make the best of it. It may feel like all of that energy is now meaningless and motivation is scarce, but that is far from true. Now, more than ever before, we need that positivity and determination. That energy will be what pulls us through this era of uncertainty and allows us to come out stronger on the other side. We take so much pride in the supportive network that has been constructed around these challenges, that YOU have all been an essential part in building, and we know that you will continue to amaze us with your creativity and generosity. Be kind to each other, be kind to yourselves, and, most importantly, don't lose hope!
With Love,
The Run The Edge Team - Adam, Mimi, Kelsey, Briana, and Tim