If the holiday season kind of snuck up on you this year (it certainly did for us), then you might be scrambling to find the perfect gifts for your loved ones right now. Don't worry, you're not alone! We have you covered with our Run The Edge Gift Cards!

Give the gift of fitness to someone special in your life this year— they will thank you for it! Instead of showing how much you care about someone through a material object, set them up for a fun, healthy year with one of our challenges! Registrations for Run The Year 2021 and Amerithon are available in gift card form, or you can give them a general Run The Edge gift card that can be used on registrations AND swag!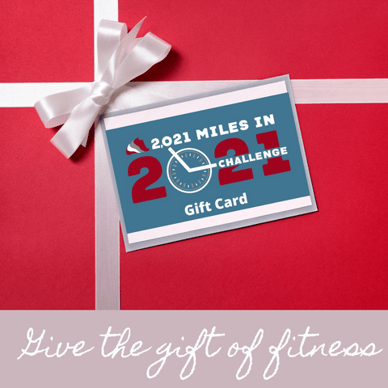 Our gift cards are 100% digital and easy to send. When you purchase one, you will receive an email with a unique code. Send this code to your intended recipient, and they can enter it at checkout! No paper, no shipping, and no contact necessary!

What better last-minute gift for someone you care about than a multi-thousand-mile virtual fitness challenge? Invest in their health and fitness, and give them something to motivate them all year long! We all need a little more motivation than normal after the year we've had.

What are you waiting for? We just solved your last-minute-gift crisis!
P.S. We're not encouraging you to pressure your friends and family into taking on these completely awesome and inspirational challenges with you, but we will not deny that these gift cards are an extremely effective way to recruit teammates...