Despite getting her thyroid in check and making a continual effort to exercise and be active the weight just would not come off. Frustrated and feeling as though she was setting a horrible example for her children, Barbara decided to undergo gastric bypass surgery in 2010. A decision Barbara cautions is not a quick fix solution to weight loss, but rather a tool to help create an environment where she could finally focus purposefully on herself.
It is a lesson that she feels is so important to pass on to others on a similar journey as hers. She explains, "Support of friends and family is awesome, but they aren't inside our heads. We are the only ones who can honestly make the changes we want to."
If only they knew how hard she's worked to overcome all that goes along with a life in an overweight body. It is drawing strength from her journey however that keeps her setting her sights high. One thing is for sure; she's on a path that includes many more miles traversed by her own two feet.
We know completing both challenges in the year is no easy feat, but the team here at Run The Edge has no doubt she will knock our challenges out of the park much like the women in "A League of Their Own...no boundaries, only opportunity. Go hit your home run Barbara, show them why "the hard is what makes it great." The Run The Edge family is here to cheer you on!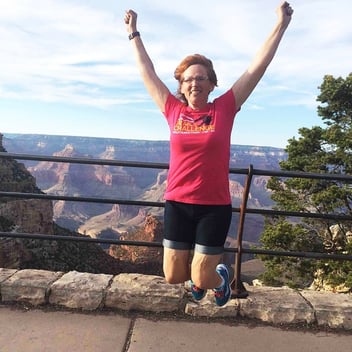 Story by Barbara Rausch | Photos provided by Barbara Rausch
Written by Briana Boehmer